Getting a high polish on your brass parts can be one of the most important steps in the manufacturing process.  Customers love a deep polish on brass, but hand polishing is expensive, inconsistent and time consuming.  The other option is automating the process, the benefits include:
-Repeatability of the finish
-Costs much less per hour to run than it costs to pay an employee to hand polish
-Great for high yield parts or low yield/high value parts
When you need to cut & polish your parts in one machine, a high speed barrel finisher from MFI is the perfect solution.  With a huge selection of sizes, we can help you find the right machine for your application.  Processing in a high speed barrel finisher is easy, the operator:
-fills the barrel (each machine has 4) with the right media and compound
-place parts in barrel (with partitions, if needed)
-lock lid and shut sliding process chamber door (with magnetic safety lock)
-hit start (preset process time)
The operator empties each barrel onto the media/parts separation deck under the process chamber at the end of the cycle and waits for the media and parts to quickly separate themselves.  Once finished, the operator simply repeats the process.  Please see the pics below of (1) raw parts, (2) parts cut in tumbling media, (3) parts polished in polishing media.  All processes were done in a high speed barrel, each process took and hour or less.
1: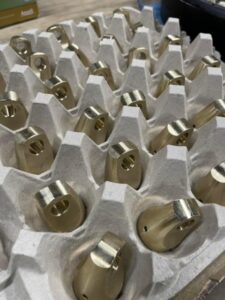 2: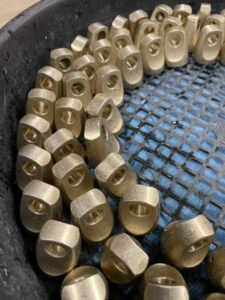 3: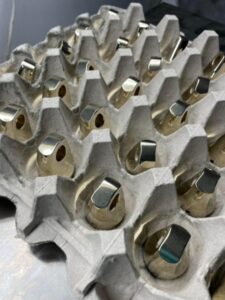 Mikro works with MFI out of Howard Lake MN when sourcing high speed barrel finishing equipment.  With a long reputation of high quality & user friendly equipment, MFI constantly tweaks their line to make sure they are offering the latest in automation and programmability.  Please contact us with any questions and to arrange free testing.