Vibratory Deburring Services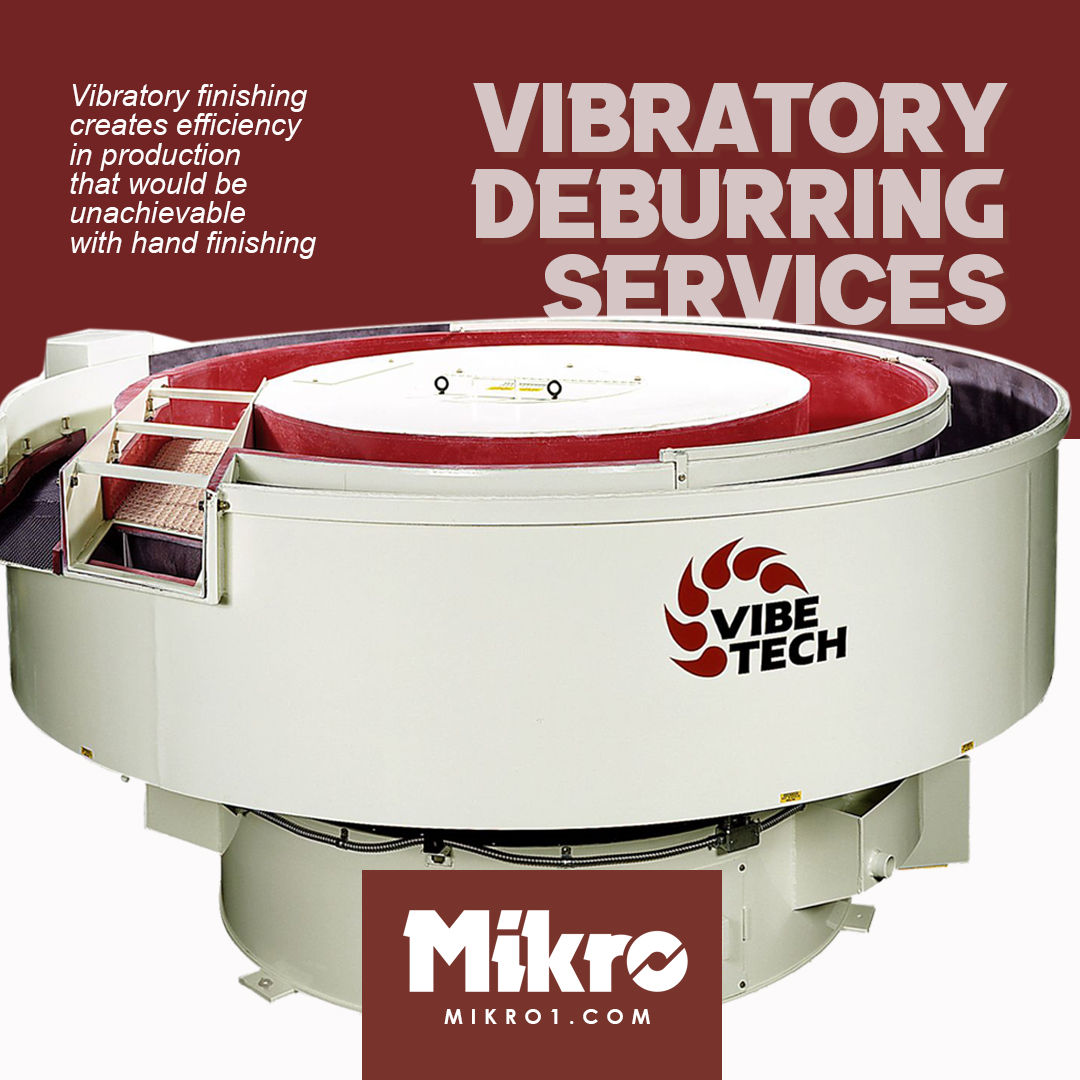 Vibratory Finishing
Vibratory finishing is one of the industry's most popular methods for parts finishing. This process involves placing unfinished parts into a vibratory tub or bowl, along with media that rubs against the parts. With the vibratory action, the media grinds against the surface of the parts and creates a smooth, deburred finish. This method of finishing can be used to deburr, clean, and brighten parts in large batches.
---
Vibratory finishing creates efficiency in production that would be unachievable with hand finishing. The use of this equipment is most common for small parts, especially if manufactured in large quantities. However, vibratory finishing equipment can be used for almost all parts and industries.
Vibratory vs. Barrel Finishing
Vibratory finishing is more often used for mass finishing jobs than barrel tumbling. The vibratory finishing process is much faster and uniform, which is ideal for bulk finishing jobs.  This can improve efficiency in manufacturing facilities.
---
Vibratory finishing is also more suitable for delicate parts, or parts with internal features. Depending on the media used, the process is able to smooth holes and sharp edges. Depending on the parts' size, shape, and surface area, this can help ensure a more consistent finish.
---
Vibratory finishing equipment is at the top of industry standards for many reasons. Mikro offers top vibratory finishing equipment from several leading manufacturers such as CLM Vibetech, Inc., Burr King, C&M Topline and RayTech. These quality brands supply bowl, combo, and tub configurations, capable of processing wet, dry or part on part batches. Mikro has everything from ½ cubic foot to 100 cubic foot vibratory finishers with or without media/parts separation.
---
We also offer vibratory finishing services in our state-of-the-art Job Shop. We have vibratory tubs and bowls to deliver fast, quality end results. Whether you need 100 or 10,000 units ready to ship, we have the staff and capability to serve you.
---
Mikro works with you one on one to find the right equipment and supplies for your facility. By custom process testing and matching you with quality, affordable vibratory finishers, we deliver the highest standard of customer care in the industry.
---
Visit our Job Shop Services page for more information.