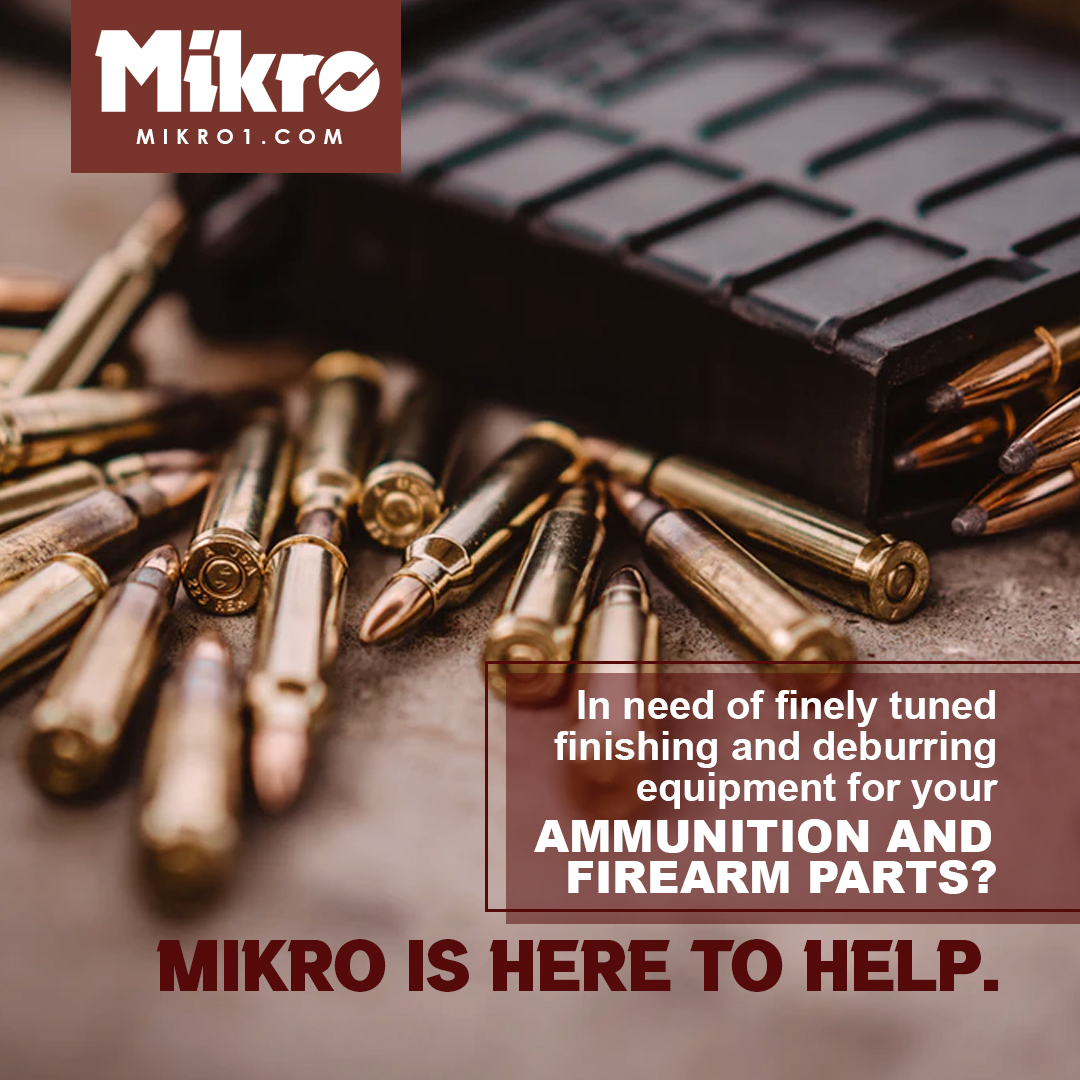 Mikro is a leading dealer of vibratory finishing, deburring, cleaning, and degreasing equipment in the U.S. We uphold a reputation for excellence across all industries including ammunition and firearm manufacturing. Our equipment is top of the industry. We guarantee a quality, repeatable finish with every use. When you need finely tuned finishing and deburring equipment for your ammunition and firearm parts, Mikro is here to help.
---
With many of our ammunition manufacturing clients, their most important priorities are quantity and speed. They require a dealer that can provide for a variety of caliber ammunition as well as a great quantity, without sacrificing the quality standards of the finished product. Mikro can offer all of this to you. Our equipment can finish ammunition of any size and batch quantity. We understand your priorities and build services around what matters most: customer satisfaction.
---
Mikro offers process testing and custom solutions for our ammunition manufacturing clients. We work with you one-on-one to determine the best equipment and services needed for your given facility. Our team of engineers and industry leaders will evaluate your needs and fit you with the right equipment to bring you to the top of the market. Whether you're producing in small batches or shipping around the world, we are committed to your end product.
In addition to our product lines, Mikro offers in-house finishing, cleaning, deburring, and degreasing services at the Job Shop. For ammunition manufacturers and suppliers looking for an on-time and trustworthy finishing service, we will fit you with a service deal worth your time and investment. Some of our Job Shop services include:
Vibratory deburring
Hand deburring
Edge breaking
Steel ball burnishing
Pre-plate finishing
Sand blasting
Dry processing
Parts washing
Centrifugal finishing
Ammunitions is a growing industry that demands a higher standard of quality than ever before. In order for you to climb to the top of the market, you'll need a trusted finishing equipment provider to offer the best products to your consumers. Choose Mikro to make your ammunitions the best of the best. With Mikro, your company's reputation is in good hands.
Contact us today to learn more about our equipment, leading manufacturer lines, and Job Shop services.