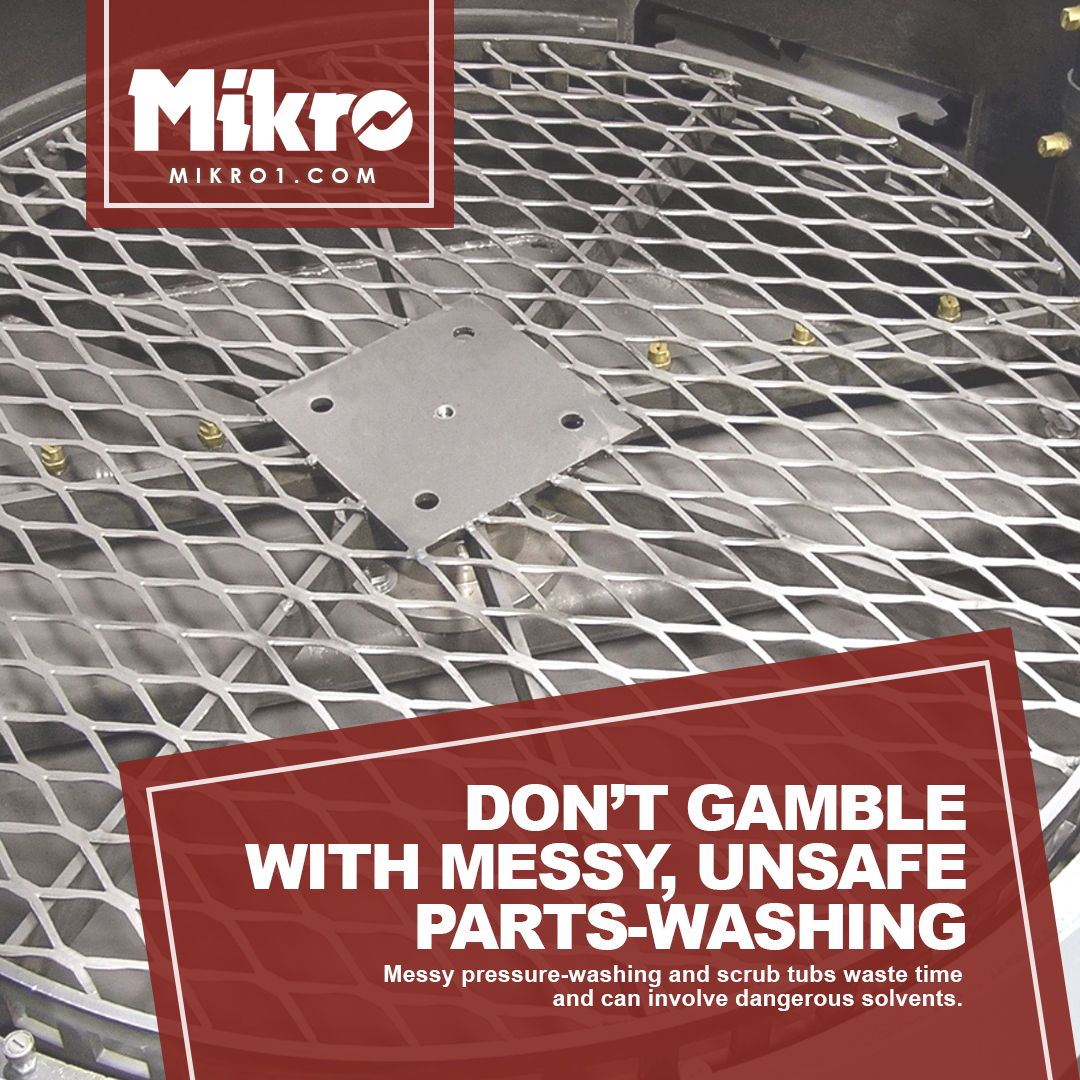 Parts cleaning equipment is used to remove oil, chips, and other surface contaminates. All types of parts, small to large, and any application: agitating, rotary basket, rotary drum, belt, spray cabinet, cellular, programmable hoist, automated systems and system design.
---
We represent JenFab Cleaning Solutions & Ramco
---
Every cleaning project is unique and requires a customized solution.  At Mikro, we work with our clients to locate the right parts washing equipment and supplies to hit a variety of goals.
JenFab Cleaning Solutions
Lean Clean cellular, vertical agitation w/rotating basket, belt, rotary drum
immersion, spray cabinet and automated systems
---
Ramco
Agitating, immersion, rotating basket, automated systems
Aqueous parts washers are essential for removing oil, chips, grease, carbon, and other surface contaminants from all kinds of parts, whether small or large, and on any kind of application; agitating, rotary basket, rotary drum, conveyor, spray cabinet, cellular, programmable hoist & fully automated systems. They are a vital part of the manufacturing process as they are designed to clean, degrease, and dry work pieces.
They are important in automotive, medical, aerospace, jewellery, ammunition and many other manufacturing industries; and other industrial maintenance applications. This equipment is the finishing touch to a product and ensures the highest quality and safety standards are met. 
Aqueous parts washers can be an excellent option; they can handle large throughput, hit tight clean specs and are the environmentally friendly option in parts cleaning.  Some of the most popular models are listed below:
Spray Washer:

This type of washer uses high-pressure nozzles to shoot out hot water and cleaning solutions. They are ideal for cleaning large parts with heavy soil loads.

Conveyor Washer Dryer:

  Aqueous conveyor parts washers are perfect for flow through manufacturing.   They typically utilize 3 chambers, wash/rinse/dry.  Moving the parts through each chamber on a metal belt, the parts are exposed to 360 degree spray nozzle interface as well as heated blow off dry (for quick and reliable drying).  The customer can choose from a variety of belt widths, to accommodate most applications.  

Immersion Washer Dryer:

Immersion washers work by "immersing" parts into large water tanks. They use hydrodynamics to remove dirt, facilitated by deck oscillation and turbo filtration.  The addition of ultrasonics always enhances a machine's ability to clean parts.

Rotary Drum Washer Dryer:

These aqueous washers make use of a rotating cylindrical tank to create continuous movements that clean large volumes of small products.  Almost like a cement mixer, they move the parts forward while making sure they are adequately exposed to the wash, rinse & drying sections of the parts washer.  

Rotary Basket Washer Dryer: 

These aqueous parts washers are ideal when floor space is a concern.  They typically offer was/rinse/dry capabilities in a single processing chamber.  A basket of parts (with a compression lid) is placed in the process chamber and can rotate 360 degrees through all (3) of the processes.  This Allows for maximum solution/part interface, as well as accelerated dry cycle times.  The addition of ultrasonics will enhance the cleaning and rinsing capabilities of the machine.
Choosing the right type of cleaner depends on the size and the complexity of the part. The part material and the contaminants to be cleaned are also taken into consideration. 
At Mikro, we source only the highest quality parts washers. Every cleaning project is unique and requires a customized solution. We work closely with our clients to locate the right part washers that will meet a variety of goals. 
We also offer custom process testing to ensure your parts washing equipment runs at peak performance. Some of our top parts washer product lines include; Ransohoff, Crest, Blackstone, Ramco & CLM VibeTech.
In addition to our equipment and process testing, Mikro offers parts washing and degreasing services at our Job Shop. The Mikro Job Shop is one of the largest tumbling shops in Northeast America. We serve clients from across the country with guaranteed quality and quick turnaround time. You can't go wrong when you choose Mikro for your parts washing and deburring service needs.