Using a settling tank in concert with a vibratory finishing mill is an excellent way to remove heavier solid particulates while still being able to re-use the water & compound (maximizing the value of the finishing cell).  The size of the settling system is a function of the overall gallons per hour needed in the finishing department.  Under most circumstances the user can budget 1-2 gallons per cubic feet of finishing capacity per hour.  It is also optimal to circulate the contents of the settling system once per 8 hour shift.  If a 10 cubic foot machine will use around 10-20 gallons of water per hour, the operator will want to use a 100 gallon settling tank to keep up with the flow demands.
At Mikro we like to add a settling chamber every 25 gallons (50 gallon (2) chamber tank minimum).  We have found that 50, 75 & 100 gallon tanks work nicely and can be made to fit around the machinery in most finishing departments.  We also utilize a double wall settling design between chambers.  This forces the solids to the bottom of each consecutive chamber as the effluent passes through the system.  This "waterfall" effect is far superior to a traditional "weir" system.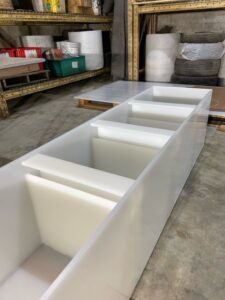 By offering custom settling systems, Mikro is able to work with the customer to design tanks and systems to fit all types of applications.  From 50 gallon (2) chamber tanks, to entire finishing department installations, we are here to help design the perfect settling system for your companies needs.  If you are looking into settling as an option for re-circulating the effluent in your companies finishing department, please call us with any questions (860) 875-6357.