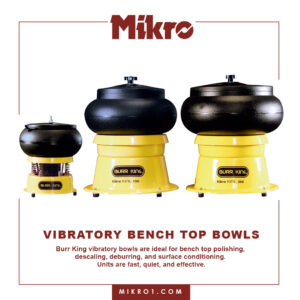 Mikro is a leading dealer of our nation's highest quality finishing, cleaning, degreasing, and deburring equipment. We make our clients' needs a top priority, guaranteeing a custom solution for your facility. Mikro has upheld a reputation for excellence since 1983. Our equipment is tested through rigorous quality assurance programs, and delivered with a satisfaction guarantee. 
Burr King, like Mikro, has been serving manufacturers for over 60 years with the exceptional abrasive belt grinders, polishing equipment, disc grinders and vibratory deburring and polishing equipment. Their top-of-the-line equipment is trusted by clients across the country, from small manufacturers to giants in every industry. American-made and tested for excellence, Burr King is one of our leading product lines for finishing and polishing equipment. 
Brr King offers finishing and polishing equipment for metals, woods, composites, plastics, rubber, stone, fiberglass, and much more. Their belt grinders, disc grinders, vibratory bowls and chambers, deburring and polishing equipment, and extensive parts department have helped manufacturers across the country deliver the highest quality products to market. Burr King is a part of your success, and we want to bring you their standard of excellence at unbeatable prices. 
Mikro offers competitive prices for Burr King equipment and thorough process testing, Our engineers will work with you to determine an efficient system for cleaning, finishing, and polishing that meets your facility's requirements. Peak performance is our number one goal. We want to help you every step of the way from purchase to installation and process design. 
We also use Burr King equipment in our state-of-the-art job shop. For manufacturers looking for on-time and consistent finishing services, Mikro has the equipment and staff needed to exceed expectations. We offer the following services in the Job Shop using Burr King equipment:
Vibratory deburring

Hand deburring

Edge breaking

Steel ball burnishing

Pre-plate finishing

Sand blasting

Dry processing

Parts washing

Centrifugal finishing