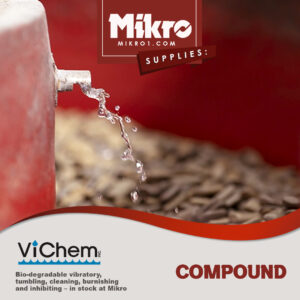 ViChem is an expert manufacturer of cleaning compounds for vibratory finishers. They are a leader in industrial cleaning technology, delivering some of the best solutions for high-volume and precision cleaning. Mikro is proud to be one of ViChem's top dealers in the United States. We stand by their commitment to excellence with unprecedented customer care.
In addition to their superior performance, ViChem cleaning solutions offer an environmentally safe option for effluent treatment and discharge. They are made of primarily biodegradable components, making ViChem solutions superior to chemically hazardous or toxic solvents. ViChem provides the products you need to run your tumbling and parts washing department efficiently, and with a clean environmental and community conscience.
ViChem offers superior industrial cleaning solutions in many ways. Some of their product benefits include:
Lower level of foaming
No scents or solvents used
Biodegradable components
Corrosion protective qualities
Safe to handle with minimal precautions
ViChem products are customized to suit a variety of applications. Different types of solutions can be used for different effluent treatment systems, cleaners, and vibratory bowls. At Mikro, we offer an extensive product line of ViChem product to suit the needs of each of our clients' individual needs.
Mikro also offers custom process testing for all of our product lines. Our team of industry leaders and engineers will ensure that your ViChem compounds are compatible with all other machinery and processing equipment within your facility. This custom process testing is a part of the Mikro guarantee to deliver quality results.
Mikro also uses ViChem cleaning solutions in our Vernon, Connecticut Job Shop. The Job Shop is utilized by clients in the Northeastern U.S. for vibratory finishing, vapor degreasing, sand blasting, and deburring services of all kinds. Mikro uses ViChem products among others to deliver clean, consistent workpieces every time.
If you are interested in learning more about Mikro's line of ViChem products and in-house industrial deburring services, contact us.
ViChem compounds are all new formulations designed to offer maximum effectiveness in vibratory bowls, as well as environmental compatibility in effluent treatment and discharge. Today's metal finishers expect their compounds to perform well without disrupting plant effluent settling and treatment systems. ViChem understands these needs and offers compounds which feature:
Lower foaming
No solvents or odors
Biodegradable components
High performance synthetics
Superior cleaning & rinsing
Corrosion protection that works during humid months
Safe handling with minimum precautions
Custom blending compounds to meet your specific performance and economic requirements is a welcome challenge at ViChem. Our laboratory is dedicated to developing new and novel formulas with just the right chemistry to get the job done.