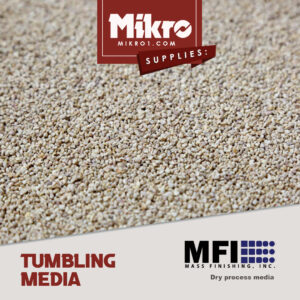 In 1995, brothers Mike and Tom Mathisen took their combined years of experience in the industrial finishing industry to open their own company, Mass Finishing, Inc. (MFI). Today, Mikro is proud to partner with this industry leader to bring clients the highest-quality, American-made finishing and tumbling media available. The standard of excellence that MFI brings, coupled with the competitive prices and customer service that Mikro has to offer, completes the client experience with 100% satisfaction guaranteed. 
MFI is known internationally for its barrel tumbling equipment including their signature HZ-Series product line. Mikro carries their finest barrel tumbling equipment, along with their centrifugal disc finishers ideal for large batch production. MFi also supplies us with top-of-the-line vibratory tub and bowl equipment for large facility operations. These high-volume capacity machines will turn out shipment-ready parts and products every time. Cycle times for tub and bowl finishers are longer; however, they are cost-effective for large operations where quantity is just as important as quality. 
MFI helps Mikro to serve aerospace, automotive, dental, jewelry, rubber, firearms, and many other industries that make our country what it is today. Mikro is a key player in many of these industries and only chooses the top manufacturers to supply to our clients. When you choose MFI, you know you're getting both the best price and quality for your investment. 
If you're in need of fast service or would like to shop options, contact Mikro for our Job Shop services. We perform finishing, tumbling, and cleaning services for clients locally using state-of-the-art MFi equipment. Call our Job Shop for: 
Vibratory deburring

Hand deburring
Edge breaking
Steel ball burnishing
Pre-plate finishing
Sand blasting
Dry processing
Parts washing
Centrifugal finishing
If you're ready to shop MFi, contact Mikro today. We offer experienced customer service, process testing, and custom outfitting of finishing equipment for your facility needs. Mikro takes your satisfaction seriously with every purchase. If you have questions or would like to learn more about the MFI equipment sold at Mikro, call us at (860) 875-6357.