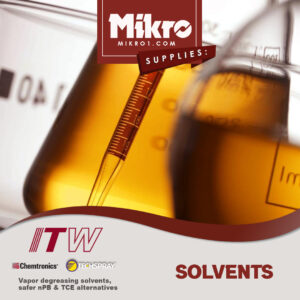 Illinois Tool Works Inc. (ITW) is a global manufacturer for industrial cleaning and solvent products. For over a century they have set the industry standard for excellence in design, development, and application for all industries served. Currently, ITW has locations in 55 countries and employs over 48,000 workers who unite under the ITW mission for exceeding expectations of clients, dealers, and the end-user. At Mikro, we are proud to be a part of that mission. 
Mikro is a leading dealer of two ITW subsidiaries, Techspray and Chemtronics:
Techspray is an international and industry-leading manufacturer of industrial cleaners, degreasers, coatings, and other chemical products. All Techspray products are free of n-Propyl Bromide, Trichloroethylene, and Perchloroethylene. Their advanced technology and focus on innovation brings to market the same quality of cleaning and degreasing agents without the use of harsh chemicals typical with lower quality manufacturers. 
Chemtronics is one of ITW's top manufacturers for conformal coatings, contact cleaners, and degreasers. Chemtronics specializes in product development for highly sensitive electronic applications, however their products are suitable across several industries. Performance and quality are top priorities for Chemtronics and Mikro. That is why their line of chemical cleaners and degreasers are free of harsh chemical compounds including CFCs, HCFCs, and 141b. 
Techspray and Chemtronics able to serve industrial cleaning, finishing, and other equipment manufacturing needs for clients in industries including: 
Automotive

Aviation
Construction
Electronics
Fiber Optics
Food Equipment
Life Sciences
Mikro believes in the quality of Techspray and Chemtronics, which is why we use their cleaning, degreasing, and coating products in our Job Shop. The Mikro Job Shop guarantees a quick turnaround time and shipment-ready quality end products. In addition to industrial cleaning and degreasing, we offer: 
Vibratory deburring

Hand deburring
Edge breaking
Steel ball burnishing
Pre-plate finishing
Sand blasting
Dry processing
Parts washing
Centrifugal finishing
Mikro is proud to supply both Techspray and Chemtronics equipment across the country. If you are interested in learning more about our products, customer service, or our Job Shop services, contact Mikro today.