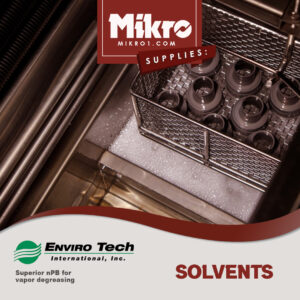 At Mikro, our clients' performance and profitability always come first. We care about delivering equipment that will help you achieve financial goals and output objectives at your facility. However, we like to take it one step further and provide you with clean, environmentally conscious cleaning chemicals and equipment whenever possible. That is why we've introduced Envirotech into our line of industrial cleaning supplies.
We carry Envirotech EPA and FDA approved chemistries that offer powerful and environmentally conscious results. They are the leader in the n-Propyl Bromide (nPB) solvent market, and have set the standards for clean, trichloroethylene (TCE) and perchloroethylene (PCE or PERC) free cleaning solvents since 1994.
Their patented EnSolv line of nPB industrial degreasing and precision cleaning solutions is used around the world. EnSolv products leave virtually no residue and prevent rusting, while lifting dirt and grease with near-perfect results. EnSolv is currently the most stable nPB product available in the United States. We carry this line of products for Mikro clients to ensure they receive the best quality of Envirotech supplies available.
Mikro and Envirotech believe that the highest standard of excellence must be met with proper product education and implementation. That is why we offer custom process testing at your facility to help you better incorporate Envirotech into your current equipment and process. Mikro engineers have the expertise to help you achieve peak performance and results with Envirotech cleaning products and technologies.
If investing in Envirotech is not in your plan right now, contact our Job Shop to see the results of Envirotech in our onsite industrial cleaning services. Services include:
Vibratory deburring
Hand deburring
Edge breaking
Steel ball burnishing
Pre-plate finishing
Sand blasting
Dry processing
Parts washing
Centrifugal finishing
The Mikro team is dedicated to your success with Envirotech industrial cleaning products. Contact us today to learn more.