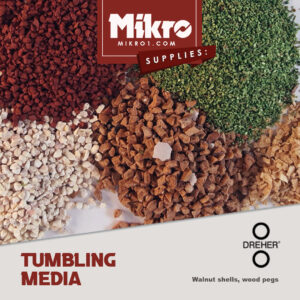 Founded in 1977, Dreher believes in the power of innovation and excellence in mass finishing product engineering. Mikro supplies customers in the U.S. with Dreher equipment not only because we believe in their product quality, but we believe in their mission to constantly innovate and provide better for our end users. 
Dreher was originated in Germany, but opened its doors to the U.S. in the 1970s. For over 40 years they have raised the bar for the industry. Dreher's cutting, smoothing, and polishing media for wet and dry process finishing has stood the test of time. Coupled with Mikro's exceptional customer service and best pricing, you can't go wrong when shopping for our line of Dreher mass finishing equipment. 
Dreher and Mikro are dedicated to providing tailored solutions for clients across the country. That is why we offer custom process design and testing for all Dreher equipment. Our team of engineers and industry leaders will create a custom solution fit for your facility's needs and capacity. We work until you are satisfied with the efficiency and performance of your Dreher systems in tandem with other facility equipment.
 If you're still shopping Mikro equipment but need fast service, call our Job Shop for details about our finishing and cleaning capability. The Mikro job shop can handle large and small batch quantities and produces shipment-ready work every time. We use state-of-the-art Dreher equipment, along with other top lead manufacturers to please every client no matter their needs. Some of our Job Shop services include: 
Vibratory deburring

Hand deburring
Edge breaking
Steel ball burnishing
Pre-plate finishing
Sand blasting
Dry processing
Parts washing
Centrifugal finishing
Mikro wants to provide you with the best customer service possible. We offer custom process testing, unbeatable prices, and round-the-clock care for our clients. If you're interested in what Dreher equipment can do for your facility, call us today. Or, visit our Job Shop to get Dreher product quality work done at your convenience.