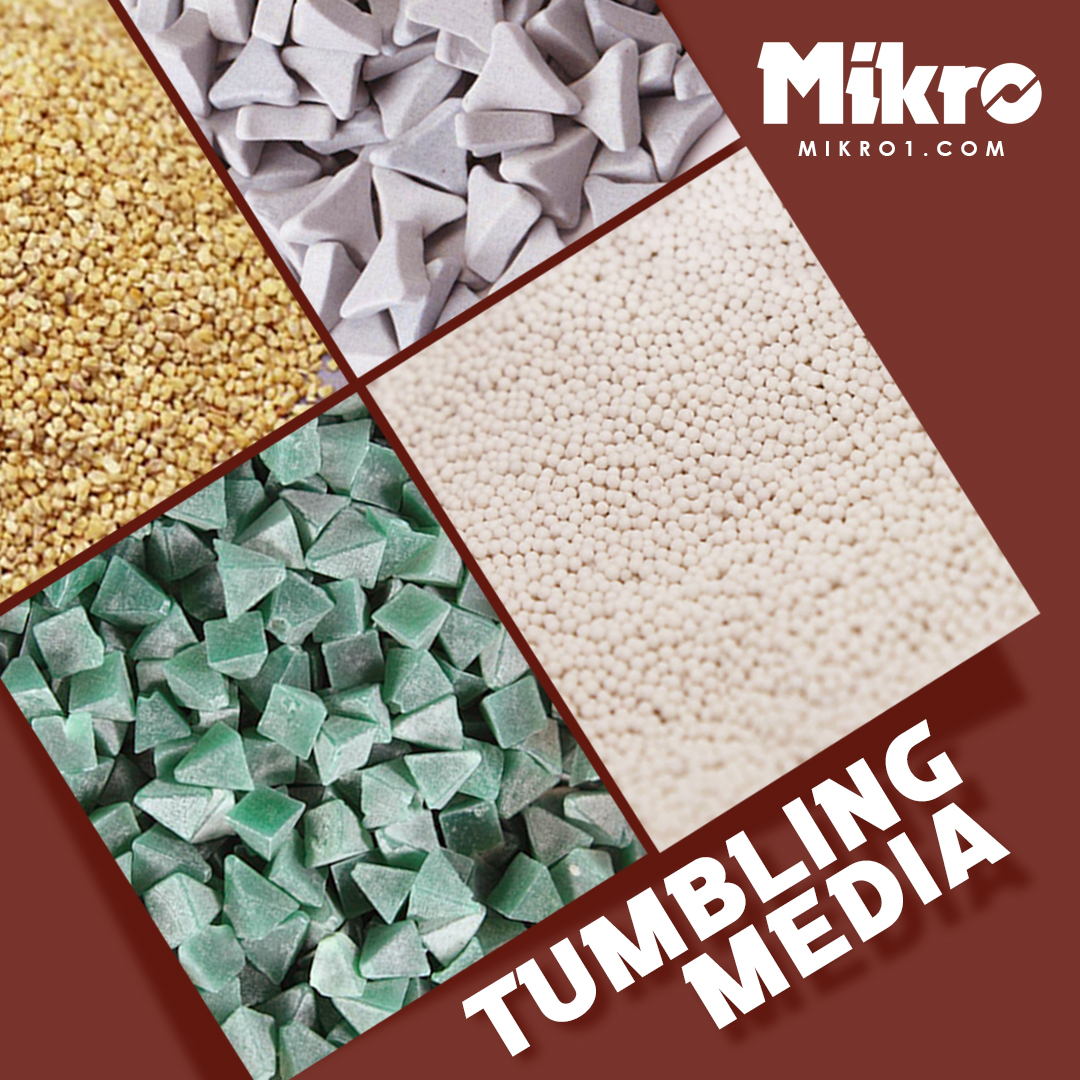 Tumbling Media
Vibra Finish
Ceramic, plastic, synthetic, high-density and precision media
---
Otec Precision Finish
Ceramic, plastic, and dry media for jewelry and medical
---
MFI
Dry process media
---
Abbott Ball
Steel and stainless steel ballcones, cones, ovals, pins and abcuts
---
Dreher
Walnut shells, wood pegs
---
Mt. Pulaski
Corn cob
Compounds
Brulin
Developing safer and more effective cleaners for parts washing
---
ViChem
Bio-degradable vibratory, tumbling, cleaning, burnishing and inhibiting –in stock at Mikro
---
Matchless
Industrial cleaners and specialty chemicals for parts washing, plating, and phosphating
---
Progress Chemical
Liquid and powder for vibratory finishing, tumble barrels and parts washers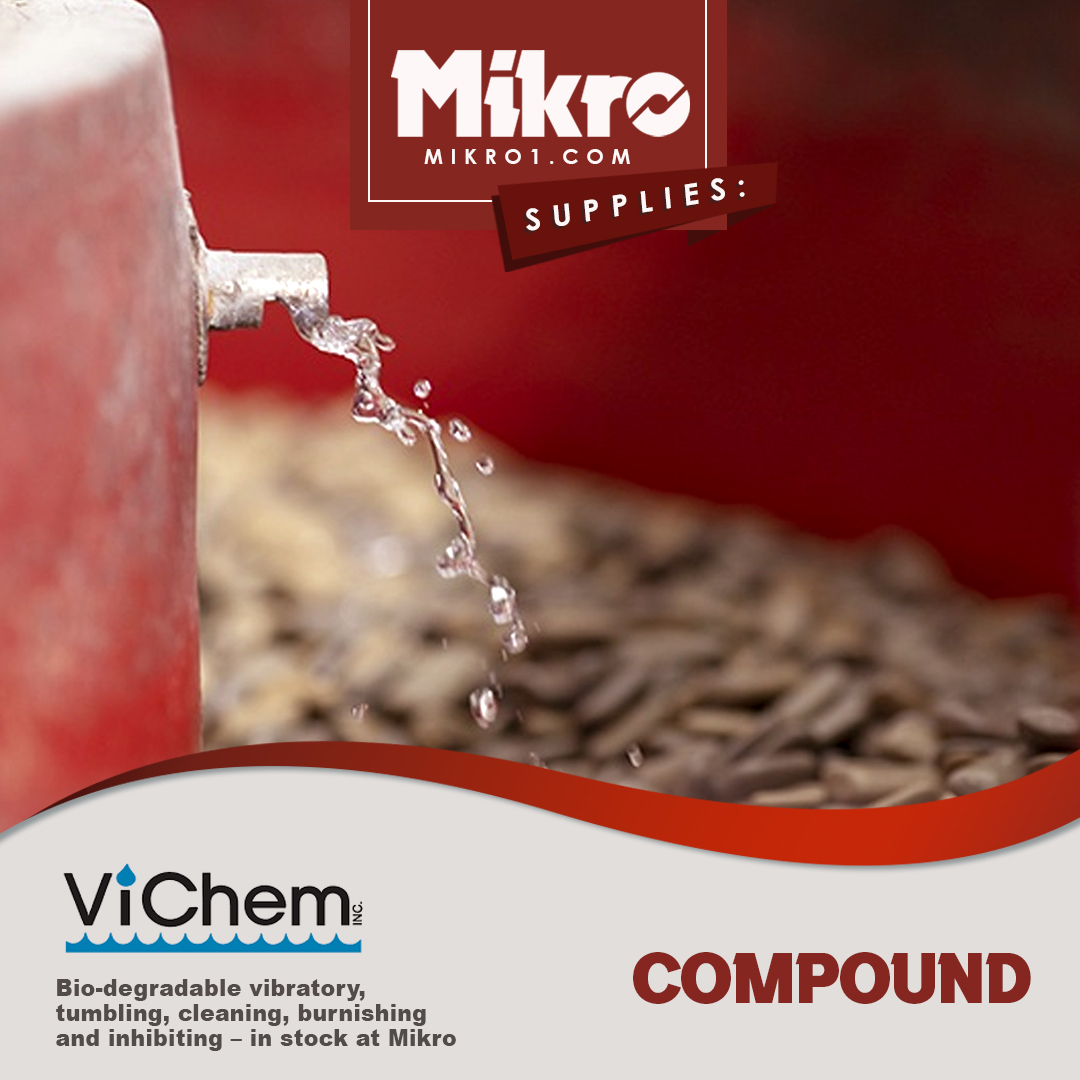 Solvents
Envirotech/EnSolv
Superior nPB for vapor degreasing
---
ITW/Techspray/Chemtronics
Vapor degreasing solvents, safer nPB & TCE alternatives
Blasting Media
Glass bead, aluminum oxide (00-400 grit), silicon carbide, plastic and garnet
Abrasives
Arc
Coated, bonded and non-woven belts, wheels, discs, rolls, sheets, points, pads
Supplies Line Card
Mikro Industrial Finishing Company specializes in the finest finishing, deburring, degreasing, and industrial cleaning supplies in the United States. We currently carry an impressive line of supplies which are:
Tumbling Media
At Mikro, we only source the best tumbling media. We currently work with several leading manufacturers such as Vibra finish, OTEC precision finish, MFI, Abbott ball and Dreher to bring you the highest quality tumbling media. 
Vibra Finish
Ceramic, plastic, synthetic, high-density and precision media.
Otec Precision Finish
Ceramic, plastic, and dry media for jewelry and medicine.
MFI
Dry process media.
Abbott Ball
Steel and stainless steel ballcones, cones, ovals, pins and abcuts.
Dreher
Walnut shells, wood pegs.
Mt. Pulaski
Corn cob.
Compounds
Choosing the right compounds to match your skill is critical. That's why at Mikro, we'll guide you and ensure you make the right choices according to your needs. We currently source our compounds from the best manufacturers in the country. 
Brulin
Developing safer and more effective cleaners for parts washing.
ViChem
Bio-degradable vibratory, tumbling, cleaning, burnishing and inhibiting –in stock at Mikro.
Matchless
Industrial cleaners and specialty chemicals for parts washing, plating, and phosphating.
Progress Chemical
Liquid and powder for vibratory finishing, tumble barrels and parts washers.
Solvents
At Mikro, we carry a wide variety of environmentally conscious, superior quality solvents for your industrial cleaning and degreasing applications:
Envirotech/EnSolv

Superior nPB for vapor degreasing

ITW/Techspray/Chemtronics

Vapor degreasing solvents, safer nPB & TCE alternatives
Blasting Media
At Mikro, we offer several blasting media options for industrial applications of every kind. They include; aluminum oxide (00-400 grit), glass beads, silicon carbides, plastic abrasives and garnets. No matter what your equipment needs may be, we can help you find the right blasting media at a great price. 
Abrasives
Mikro offers coated and bonded non-woven belts, wheels, discs, rolls, sheets, points, and pads. Whether you're working with 100 or 10,000 workpieces, these abrasive materials will help make the process smooth and efficient at your facility.
Arc
Coated, bonded and non-woven belts, wheels, discs, rolls, sheets, points, and pads.