Industrial Parts Washing Services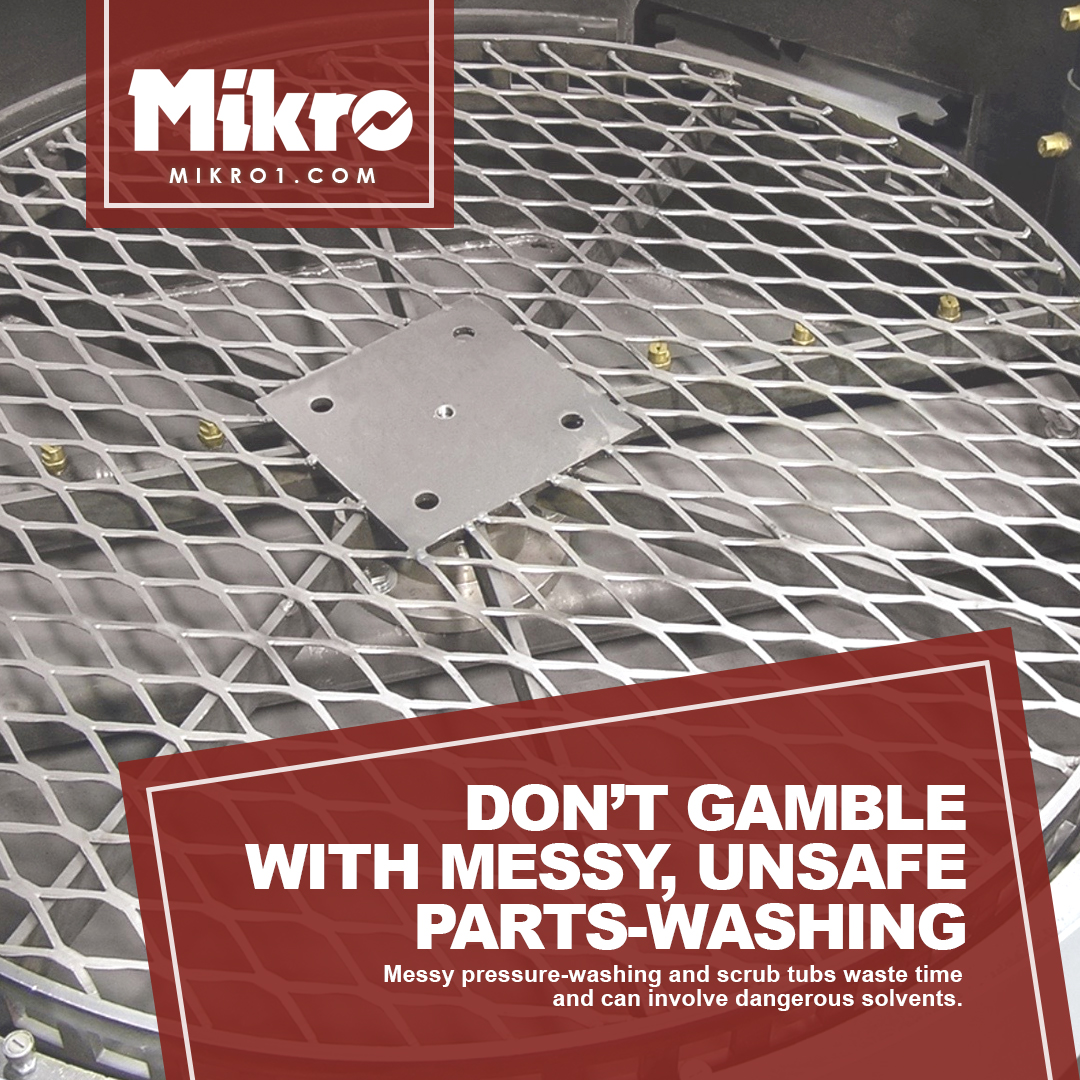 Industrial Parts Washing
Parts washing is a critical part of manufacturing top quality products in many industries. Without high-end parts washing and finishing equipment, you cannot create the consistency or efficiency needed to produce in mass quantities with exceptional results. That is why Mikro offers top-of-the-line parts washers and services to meet your facility's needs.
---
Parts washers remove all types of contaminants, debris, grease, agents, and other impurities from work pieces. They are specially designed to reduce corrosion of the material and produce a pure, clean surface. Unlike pressure washers, parts washers are designed to envelope the parts to provide an even wash for large batches of workpieces.
---
Many parts washers serve multiple functions. They wash, rinse, dry, and can sometimes load and unload parts in one integrated unit. This streamlined process ensures maximum efficiency and performance without labor. The end result is a ready-to-ship product with quick turnaround.
Solvent versus Aqueous-Based Parts Washers
There are many different designs and brands of parts washers, but most fall under the category of either a solvent or aqueous-based washer. A solvent-based parts washer uses vapor interface, immersion and ultrasonic energy to clean a part.  Aqueous-based parts washers use water-based chemicals, mechanical energy, heat, and pressure to clean and degrease. 
Parts washers are essential in automotive, medical, aerospace, jewelry, ammunition and many other manufacturing industries; and other industrial maintenance applications. They are the finishing touch to a product to ensure the highest quality and safety standards are met. When you're shopping for a parts washer to meet your facility needs and budget, there is only one place to shop. 
Mikro offers the industry's highest quality and affordable parts washers and equipment available. We work with leading manufacturers to bring you the best deals for your facility needs. We also offer custom process testing to ensure your parts washing equipment runs at peak performance. Some of our top parts washer product lines include JenFab Cleaning Solutions, Baron Blakeslee, Ransohoff and Ramco.
In addition to our equipment and process testing, Mikro offers parts washing and degreasing services at our Job Shop. The Mikro Job Shop is one of the largest industrial cleaning and fishing shops in Northeast America. We serve clients from across the country with guaranteed quality and quick turnaround time. You can't go wrong when you choose Mikro for your parts washing service needs. 
To learn more about our equipment and services, click here.