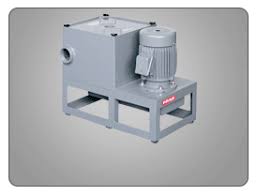 PRAB Monlan is one of Mikro's top equipment suppliers for metal chip processing, fluid filtration, conveyor, and wastewater treatment equipment. With nearly 40 products to choose from in their catalog, PRAB Monlan helps our clients achieve maximum proficiency and performance at their facilities. They have a reputation that exceeds excellence, and Mikro is proud to be a PRAB dealer for industrial processing centers across the U.S. 
PRAB Monlan equipment is efficient, user-friendly, and offers top-quality performance you can't get anywhere else. They maintain this strong reputation because the PRAB Monlan engineering team takes pride in their product's design and outputs. Their work is consistent with industry standards and lasts longer than competitors. No matter your facility's capacity or needs, together PRAB Monlan and Mikro will help you improve your current chip processing and filtration systems. 
Two of Mikro's top-selling PRAB Monlan products include solid bowl industrial centrifuges and solids filtration systems. Their industrial centrifuges help facilities reduce overall maintenance costs and improve upon material recycling goals. PRAB Monlan's solid bowl industrial centrifuges can separate metallic, ferrous, non-ferrous and non-metallic solids and particles with peak efficiency. 
PRAB Monlan's low-profile solids filtration technology is another popular product line for its low cost and even greater performance. With this state-of-the-art filtration system, you can extend the life of equipment by nearly 27%, as well as extend surface finish coolant life expectancy. There isn't a better equipment option than PRAB Monlan, and Mikro offers competitive prices and the customer service you need to make it last. 
If you're not ready to invest in PRAB Monlan equipment for your facility, we offer the next best thing. Mikro's Job Shop uses its brand equipment in our Job Shop, where you can receive industrial finishing and filtration services. Some of our Job Shop services include: 
Vibratory deburring

Hand deburring
Edge breaking
Steel ball burnishing
Pre-plate finishing
Sand blasting
Dry processing
Parts washing
Centrifugal finishing
If you're ready to shop PRAB Monlan, call Mikro today. We provide superior customer service to PRAB Monlan customers and competitive prices that make it easy to upgrade. For more information about our finishing equipment options, contact us.