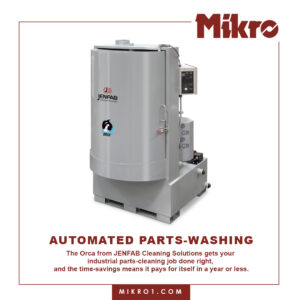 JenFab Cleaning Solutions is one of Mikro's top industrial cleaning manufacturers for a variety of applications. Since 1960, they have set the standard for innovation and experimentation in the industrial cleaning field. Their parts washers and other cleaning solutions exceed customer expectations every time, which is why Mikro is proud to carry JenFab Cleaning Solutions supplies.
In 2013, JenFab merged with JRI Industries to provide a complete line of industrial parts washers and precision cleaning systems. The two companies' expertise and development across multiple sectors put them in a highly advantageous position within the market. Today, JenFab Cleaning Solutions provides one of the most comprehensive product lines in the country.
JenFab provides heavy- and light-duty industrial washers as well as custom and precision systems for cleaning and deburring. They serve clients in manufacturing, mining, railroad, aerospace, automotive, and several other industries. As one of the top suppliers in the nation, they set the standard for excellence.
Mikro carries a wide variety of JenFab equipment for manufacturing and custom systems. We work closely with our clients to not only match them with great quality products, but to provide process testing at your facility with JenFab equipment. Our team of engineers and industry leaders will help you develop strategies for implementation across the board that produce peak efficiency with JenFab parts washing equipment.
In addition to our JenFab Cleaning Solutions sales, we utilize their innovative parts washing systems in the Mikro Job Shop. Our team of industry experts offers comprehensive parts washing services for clients who prefer to oursource rather than maintain parts washing and deburring operations in-house. Some of our Job Shop services include:
Vibratory deburring
Hand deburring
Edge breaking
Steel ball burnishing
Pre-plate finishing
Sand blasting
Dry processing
Parts washing
Centrifugal finishing
To learn more about JenFab Cleaning Solutions, click on the links below or contact Mikro today.