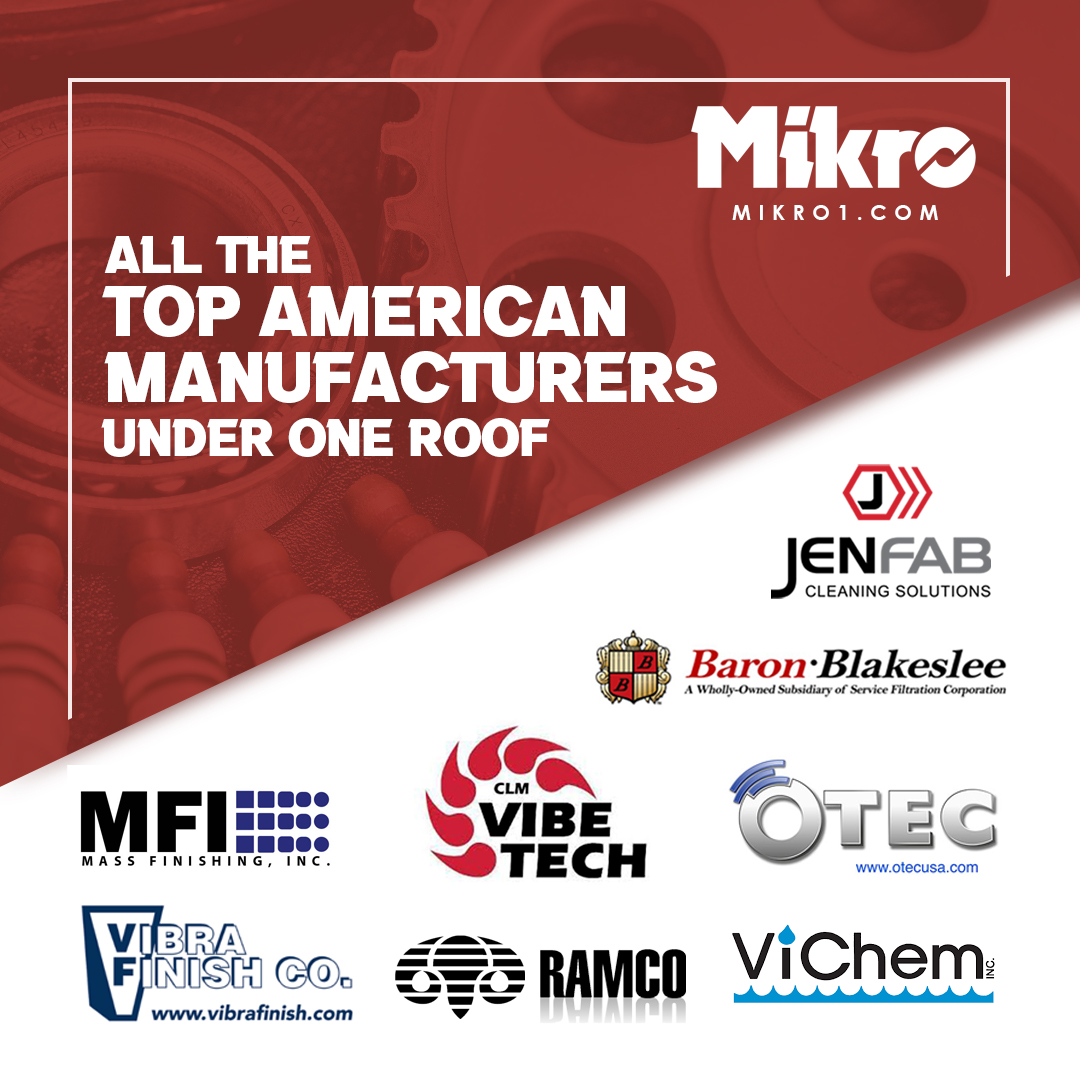 Mikro
Mikro Industrial Finishing Company is a multi-line dealer of the finest finishing, deburring, degreasing, and industrial cleaning equipment in the United States. Since 1983, we have built a reputation for excellence with outstanding product selection, competitive pricing, and excellent customer care. That reputation has stood the test of time. When working with the Mikro team, you can rest assured that yours and your facility's best interests are a top priority.
Mikro Industrial Finishing Company offers an impressive line of parts washers, vibratory finishing equipment, high-speed finishers, vapor degreasers, and ultrasonic cleaners. We source equipment and supplies from top manufacturers to ensure you get the best quality for competitive prices. At Mikro, we strive to balance affordability with your unique facility demands and will steer you in the right direction for smart purchasing decisions.
However, we're not just an equipment dealer. Mikro offers custom process testing and design for each of our clients to ensure you manage peak efficiency and performance from our equipment. Our team of experienced engineers and industry leaders will be with you every step of the way to determine the right equipment fit for your facility. There is no second-guessing with Mikro. We do the job right the first time, aiming to achieve excellence with every sale.
In addition to our sales and process testing teams, we also have a large vibratory & parts washing job shop. Our high-quality finishing services are available to all clients with guaranteed quick turnaround time. We serve clients in the automotive, aviation and aerospace, medical, industrial, and jewelry industries among many others.
At Mikro, your satisfaction comes first. We help you find equipment that lasts without the disappointing price tag. Simply affordable prices from a name you can trust.
Mikro values the lifelong customer. We make your experience a positive one from the beginning to ensure that when you have finishing, deburring, or cleaning equipment needs, we're the company you call. Mikro Industrial Finishing Company offers quality, consistent, and performance equipment that will last you a lifetime.
Advantages of Choosing Mikro
Mikro is a top dealer of industrial finishing, deburring, degreasing, and cleaning equipment. But, what makes us different? What sets us apart from other dealers in the U.S. providing the same services or product lines? Before working with us, it's important to ask these questions, and we are happy to answer them. Because at Mikro, we believe in our service and back it up with over 30 years of experience in the industry.
Great prices, and even better customer care.
Mikro is a top American dealer for a reason. We work alongside some of the best manufacturers around the world to deliver the best end results for our clients. However, we don't stop there. Mikro bargains for the best prices with each of our product lines, and pass those savings onto the client. We also ensure you are satisfied with your Mikro experience by providing exceptional customer care during sales and custom process testing for your purchased equipment.
All The Top American Manufacturers Under One Roof
When choosing a dealer of you facility equipment, product availability is a top concern. You want the best products available, and a sales team who can help you make the right decision for your needs. At Mikro, we put our clients' needs before our own. We provide the best product lines available in the U.S. and ensure that you purchase the one that suits your facility requirements and budget.
Impeccable Service At The Mikro Job Shop
We don't stop at sales to make your experience with Mikro a great one. Our Job Shop is the largest and most reputable in the Northeast for mass finishing, degreasing, abrasive blasting and more. Our highly trained and experienced service staff will help you complete the job with a quick turnaround time. In no time you'll have a shipment-ready product without all the hassle.
The Mikro Difference
So, what is the Mikro difference? It's easy to tell that we care about our clients, from the prices we offer to the comprehensive service we provide. With other dealers, the profits are the first priority. Ut with us, it's our communities and clients that we serve.